Depending on who you talk to, both bedding options can be a great choice. In European countries, duvets are habitually used. However, in the U.S., most of us grew up with a comforter on our bed. Being introduced to a duvet cover for the first time can be a culture shock—uhh what's a duvet cover?
Let's learn about the benefits of duvet covers and comforters to determine the best option for you!
Duvet Cover:
Imagine a pillowcase for your comforter─duvet cover.
A duvet cover is a lightweight material that protects your comforter. It's closer in size to your bed and won't hang much at the sides, which is perfect if you don't like your bedding touching the floor. A new duvet cover can help greatly when doing a simple room makeover. You can swap out your duvet cover and change your bedroom style in minutes.
Benefits of a duvet cover:
Painless laundry day. If you hate doing laundry, then you would agree that light loads are preferable. You will find that the duvet cover's lightweight quality will make washing and drying less of a headache.
Lightweight cover. In the summer, having a comforter on your bed might not be the best idea for hot sleepers. You can ditch the comforter and use the duvet cover as a thin blanket instead.
Money saver. Changing up your room décor can be costly. Duvet covers are usually less than comforters.
Easy to change up your bedroom style. There are many duvet cover style options available to select from.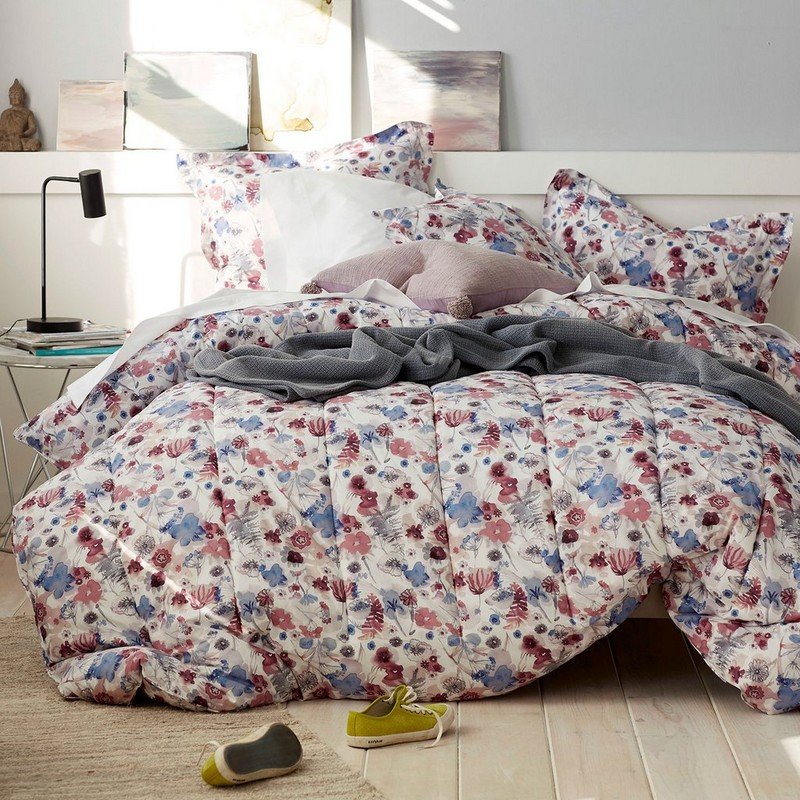 Comforter:
Imagine a stitched pillow without the pillowcase─comforter.
A comforter is made from two layers of material, stitched together, and filled with down, synthetic, or feathers. A comforter sits on top of your sheets. It is larger than a bed and hangs over the sides.
Benefits of having a comforter:
One and done situation. Though you will have a heavier laundry load with a comforter, once you wash and dry it, you can place it on your bed and go! Unlike a duvet cover, which requires extra steps.
Perfect for people who like to keep it simple. You may not have the time nor interest in switching up your bedding. A reversible comforter may be the best option for you.
Low maintenance. Frequently cleaning your comforter can break down its ability to insulate─spot cleaning works best between cleanings. Also, a comforter will shift around less on your bed.
To complement your ever-changing style, you don't have to choose between two great bedding options. A good comforter and duvet cover─ you can utilize both!
So, now that you know the benefits—duvet cover, comforter or both?